Yoga for Optimal Health at Harmony Point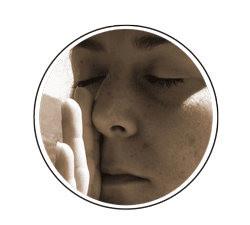 FRIDAY THERAPEUTIC YOGA CLASSES
with Bethany Bechtel
12:15 – 1:00 pm

Small group therapeutic yoga sessions are held every Friday in the same building as our 900 NW 8th Avenue office in Gainesville, Florida. Yoga sessions are offered as a special benefit for Harmony Point Acupuncture patients. Sessions are limited to six people and focus on people's specific needs. $5.00 per session.
For more information about Friday yoga, please call Bethany at 352-222-3816
---
Therapeutic Yoga Therapy in Gainesville, Florida
Bethany Bechtel also offers individual yoga treatments as a compliment to acupuncture. Dr. Bechtel can provide patients with simple yoga practices that can be done at home between appointments in order to improve treatment outcomes.  The yoga protocols are based on simple practices that a person of any physical capability can perform easily. These are based upon research at SVYASA Yoga University in Bangalore, India, where extensive research is being carried out to identify practices that are clinically proven to be safe, effective and work well in combination with other medical systems.  Dr. Bechtel has worked extensively with the researchers at SVYASA for many years.
Specific yoga protocols provide effective treatment for many health conditions, including:

high or low blood pressure
hypertension
heart conditions
diabetes
asthma
stress
anxiety
joint conditions
back pain
pain
many other conditions
---
Resources for Yoga Self-Practice
Common Yoga Protocol as developed for general yoga practice worldwide.
---
Individualized Yoga Therapies
Bethany Bechtel, AP, PhD offers individualized therapeutic yoga sessions as part of her Gainesville, Florida based acupuncture practice. These sessions offer patients individual diagnosis and a series of gentle breathing techniques and postures specially designed to improve health. Yoga can be utilized as a stand alone treatment or in conjunction with acupuncture. Dr. Bechtel uses therapeutic yoga methods developed at the sVYASA center in India. Techniques are drawn from ancient methods which have been tested in modern laboratories and clinical settings to integrate with current medical knowledge.
---
About Yoga
I have worked for nearly 15 years with the yoga practitioners and researchers at Prashanti Kutiram (SVYASA, Vivekananda Kendra) near Bangalore. This institute was granted the status of an accredited university by the Government of India in 2003 and maintains ongoing clinical yoga facilities for a wide variety of medical conditions, including asthma, back pain, hypertension, and migraines. Neuroscientist, Dr. Shirley Telles, one of the most respected yoga science researchers in the world and currently Director of Research at Patanjali Yogpeeth, Haridwar and head of the Indian Council of the Medical Research Centre for Advanced Research in Yoga and Neurophysiology at Bangalore, was the original head of research laboratories at SVYASA, helping to make it the leading institution carrying out rigorous research studies proving the efficacy of yoga in areas ranging from spacial perception of the blind to sports performance.
Bethany Bechtel, AP, PhD designed the Clinical Yoga Intensive course at sVYASA in Bangalore, India, and for many years offered this course to small groups travelling internationally to India.
Prashanti's Yoga Therapy Techniques are incorporated into my practice here in Gainesville. Treatment principles designed at this institution are based on an elegant interweaving of modern science with the ancient texts of Pratanjali. Following this model, a series of yoga practices can be tailored to meet each patient's individual needs. Such practices are a perfect compliment to regular acupuncture treatment as they provide the patient with the ability to participate actively in their own healing process. Yoga combined with acupuncture can provide the core of a comprehensive holistic treatment plan designed for the healing and empowerment of each individual.