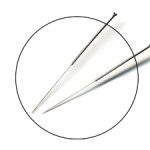 Harmony Point Acupuncture is a Gainesville, Florida based full service medical practice offering Traditional Chinese Medical (TCM) diagnosis, acupuncture, moxibustion, herbal medicine and therapeutic yoga. One of the most powerful tools we have as Acupuncture Physicians is the TCM diagnostic system, which allows us to observe patterns within the body that can lead to seemingly unrelated and disparate symptoms. Based on your diagnosis we develop a treatment plan. At Harmony Point Acupuncture we also work closely with other health practitioners in order to bring you to full health. Sometimes referred to as "alternative medicine" we prefer to consider acupuncture part of "holistic medicine" or "integrative medicine" because Traditional Chinese Medicine (TCM) offers a complete diagnosis of your condition, and because we see acupuncture working as a compliment to your other medical and wellness approaches.  The links below provide recent research results for certain specific conditions.
Acupuncture, Oriental Medicine and Yoga Therapies are suitable for the treatment of any patient.
We welcome men, women, children — the whole family!
---
Links to helpful information
NIH
The National Institutes of Health website provides a wealth of information about acupuncture and Oriental Medicine
NCCAOM
The National Certification Commission for Acupuncture and Oriental Medicine provides professional certification for acupuncture physicians and recognition of those practitioners who meet the high standards of the NCCAOM.
Recent Acupuncture Research Results
Acupuncture is a part of the broader field of Chinese medicine and health, which includes among other things the practice of Tai Ji Quan (Tai Chi). New medical research bears out the longstanding claims that Tai Chi has significant health benefits, even at beginner level of practice.  The article can be found here: "The effect of Tai Chi on four chronic conditions-cancer, osteoarthritis, heart failure and chronic obstructive pulmonary disease: a systematic review and meta-analyses."
 A new article published in the Healthcare Medicine Institute discusses acupuncture to calm arthritis:
"Researchers from the University of Manitoba, Canada, conducted a meta-analysis of 12 trials consisting of 1,763 patients with osteoarthritis. All trials compared true acupuncture with sham acupuncture, conventional treatments and no treatments."  Read the full article here.
A new article published in Scientific American discusses acupuncture for depression:
"A growing number of people are seeking alternatives to antidepressant medications, and new research suggests that acupuncture could be a promising option. One new study found the traditional Chinese practice to be as effective as antidepressants, and a different study found that acupuncture may help treat the medications' side effects."  Read the full article here.
RECENT RESEARCH SUMMARIES

ACUPUNCTURE IN PRIMARY CARE

ALLERGIES

CHRONIC PAIN

OSTEOARTHRITIS

"The use of acupuncture is associated with significant reductions in pain intensity, improvement in functional mobility and quality of life."
BMC Complement Altern Med. 2014 Aug 23;14:312. doi: 10.1186/1472-6882-14-312.

Pain management with acupuncture in osteoarthritis: a systematic review and meta-analysis.

Abstract

BACKGROUND:

The utility of acupuncture in managing osteoarthritis symptoms is uncertain. Trial results are conflicting and previous systematic reviews may have overestimated the benefits of acupuncture.

METHODS:

Two reviewers independently identified randomized controlled trials (up to May 2014) from multiple electronic sources (including PubMed/Medline, EMBASE, and CENTRAL) and reference lists of relevant articles, extracted data and assessed risk of bias (Cochrane's Risk of Bias tool). Pooled data are expressed as mean differences (MD), with 95% confidence intervals (CI) (random-effects model).

RESULTS:

We included 12 trials (1763 participants) comparing acupuncture to sham acupuncture, no treatment or usual care. We adjudicated most trials to be unclear (64%) or high (9%) risk of bias. Acupuncture use was associated with significant reductions in pain intensity (MD -0.29, 95% CI -0.55 to -0.02, I2 0%, 10 trials, 1699 participants), functional mobility (standardized MD -0.34, 95% CI -0.55 to -0.14, I2 70%, 9 trials, 1543 participants), health-related quality of life (standardized MD -0.36, 95% CI -0.58 to -0.14, I2 50%, 3 trials, 958 participants). Subgroup analysis of pain intensity by intervention duration suggested greater pain intensity reduction with intervention periods greater than 4 weeks (MD -0.38, 95% CI -0.69 to -0.06, I2 0%, 6 trials, 1239 participants).

CONCLUSIONS:

The use of acupuncture is associated with significant reductions in pain intensity, improvement in functional mobility and quality of life. While the differences are not as great as shown by other reviews, current evidence supports the use of acupuncture as an alternative for traditional analgesics in patients with osteoarthritis.

BACK PAIN

Acupuncture for Back Pain More Effective Than Drugs

:

Study published in the online edition of the

Journal of the International Association for the Study of Pain — Read the Review in Acupuncture Today

Acupuncture Found Effective for Back Pain: Study finds it superior to usual care — Read the Review in Acupuncture Today
The study reviewed appeared in the Archives of Internal Medicine, May 2009
A randomized trial comparing acupuncture, simulated acupuncture, and usual care for chronic low back pain showed that acupuncture treatment for chronic low back pain was more effective than standard treatments. It is recommended that acupuncture be used for treatment, alone or in conjunction with physical therapy. (Cherkin DC, Sherman KJ, Avins AL, et al. A randomized trial comparing acupuncture, simulated acupuncture , and usual care for chronic low back pain. Arch Intern Med. 2009 May 11; 169(9):858-66)
See also: (Yuan J. Purepon N, Kerr DP, et al. Effectiveness of acupuncture for low back pain: a systematic review. Spine. 2008 Nov 1; 33(23):E887-900.)

ASSISTED FERTILITY – IVF

British Medical Journal, February 2008, Effects of acupuncture on rates of pregnancy and live birth among women undergoing in vitro fertilisation: systematic review and meta-analysis

Seven trials with 1366 women undergoing in vitro fertilisation (IVF) were included in the meta-analyses. There was little clinical heterogeneity. Trials with sham acupuncture and no adjuvant treatment as controls were pooled for the primary analysis. Complementing the embryo transfer process with acupuncture was associated with significant and clinically relevant improvements in clinical pregnancy.(BMJ, doi:10.1136/bmj.39471.430451.BE, published 7 February 2008) Read the Full Article |

Click Here

ACUPUNCTURE FOR POST-TRAUMATIC STRESS DISORDER (PTSD)

Michael Hollifield, Nityamo Sinclair-Lian, Teddy D. Warner, and Richard Hammerschlag, "Acupuncture for Posttraumatic Stress Disorder: A Randomized Controlled Pilot Trial." The Journal of Nervous and Mental Disease, June 2007. For more information |

Click Here

A pilot study shows that acupuncture may help people with post-traumatic stress disorder. Post-traumatic stress disorder (PTSD) is an anxiety disorder that can develop after exposure to a terrifying event or ordeal in which grave physical harm occurred or was threatened. Traumatic events that may trigger PTSD include violent personal assaults, natural or human-caused disasters, accidents, or military combat.

ACUPUNCTURE IMPROVES SYMPTOMS OF FIBROMYALGIA

A recent investigation into the effectiveness of acupuncture for fibromyalgia was conducted by researchers at the Mayo Clinic. Acupuncture provided significant improvements in a variety of symptoms associated with fibromyalgia, with the effects of care often lasting several months. "Our study was performed on patients with moderate to severe fibromylagia. It's my speculation that if acupuncture works for these patients with recalcitrant fibromyalgia — where previous treatments had not provided satisfactory relief — it would likely work for many of the millions of fibromyalgia patients," said Dr. David Martin, the study's lead investigator. reference: Martin DP, Sletten CD, Williams BA, et al. Acupuncture Improves Symptoms of Fibromyalgia: A Randomized, Controlled Trial. Abstract#1260-P120. Presented at the 11th World Congress on Pain, Sydney, Australia, 2005. Available

http://iasp-pain.org

See also link at

http://www.medpagetoday.com/Rheumatology/GeneralRheumatology/tb/3564

TENSION HEADACHES

A large scale study published in the Aug. 13, 2005 issue of the British Medical Journal found significant benefit of acupuncture for the treatment of tension headaches. According to the National Institutes of Health (NIH) this is the most common type of headache suffered by patients in the US. Treatment by both 'standard' acupuncture practice, and 'minimal' acupuncture treatment provided at least several months relief to patients. Specific acupuncture protocols were tested, giving practitioners a basis for reliable treatment. While acupuncture has long been used to successfully treat migraine type headaches, this study is an important test of acupuncture treatment of the less debilitating, but more chronic and common tension type headache.

References:

Melchar D, Streng A, Hoppe A, et al. Acupuncture in Patients with tension-type headache: randomized controlled trial. British Medical Journal. Aug. 13, 2005; 331:376-382.

Melchart D, Linde K, Fischer R, White A, Allais G, Vickers A, et al. Acupuncture for recurrent headaches: a systematic review of randomized controlled trials. Cephalagia. 1999;19:779–86.
SCROLL_TEXT
Click on any title below to read the full posting: